PEDIATRICS: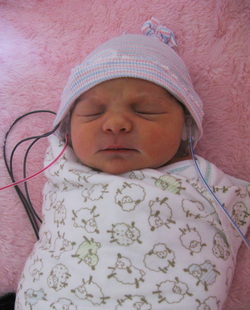 What methods are used to test children? At our office we have a variety of ways to test a child's hearing. Depending on the particular problem your child is having the physician may order one or more of the following tests:

Tympanometry: This is a pressure test used to determine if sound can easily move through the eardrum and middle ear system. This test can detect if a child may have fluid behind his/her eardrum.

Otoacoustic Emissions (OAEs): OAEs are very soft sounds that healthy hearing systems (hair cells in the cochlea) produce when stimulated with different tones. When our equipment sends specific sounds into the ear the healthy cochlea responds by making another sound. Our equipment is sensitive enough to measure these sounds. By documenting these sounds, we predict whether or not your child has a hearing loss. We know that unhealthy hearing systems do not make these sounds at all.

Visual Reinforcement Audiometry (VRA): If your child is too young to accurately tell us what sounds they can here, we use VRA. The child learns that if s/he turns his/her head in response to a sound, s/he will be rewarded by seeing a toy with flashing lights. At our office this test will take up to one hour.

Conditioned Play Audiometry (CPA): CPA is used for children who are old enough to learn a listening task. The child learns that if s/he hears a sound, s/he may complete a task or play a game. Often we ask the children to listen and when they hear the sounds they place a block in a bucket or put a peg in a hole. This test is will take up to one hour.

I was told my child may need tubes. What are "tubes"? The word "tube" is actually short for pressure equalization tube. As many parents know, ear infections and fluid behind the eardrum are a common problem for their children. This problem is caused when the Eustachian tube (a small tube that is located between the middle ear and the back of the nose/throat) doesn't work right. This poor functioning frequently causes fluid build up and possible infection within the middle ear. When medicine has failed to clear up this problem your physician may recommend s/he insert tubes. In a short surgery the physician will lance the eardrum and remove all the infection and fluid from the middle ear space. S/He then will place a small tube that looks like a spool into the eardrum. In a short time the eardrum will heal around the tube. This tube will prevent pressure from building in the middle ear space and infection and fluid from collecting.

So, does the tube stay in there forever? NO. Most tubes will come out (extrude) within 6 months to a year. The hope is that when the tube finally comes out the Eustachian tube can now do it's job on its own.

How will they find out my child needs tubes? When a physician looks into a child's ear s/he can see if fluid or infection is present behind the eardrum. Most of the time, though, s/he will want to confirm this with some of the tests we mentioned before. Most commonly a hearing test and/or tympanometry will be performed before tubes are placed.

At what age should my child be tested? The NIH (National Institute of Health) recommends that all babies be tested for hearing loss at birth. In Florida, ALL babies are REQUIRED to be tested prior to leaving the hospital when they are born. However if, at any time, you have concern about your child's hearing then s/he should be tested. We have the ability to accurately determine or predict a child's hearing levels at any age.

How will my infant be tested? Infants under the age of six months have not developed the proper muscles to turn their head to sound, therefore, OAEs will be used to test their hearing. VRA will be attempted with infants over the age of 6 months.

How will my toddler be tested? All children are different. Even the brightest children may be intimidated by a sound booth and fail to participate in age-appropriate testing. However, most toddlers are able to respond to sounds using VRA or CPA.

How will my 3 - 5 year old be tested? Most children ages 3-5 can complete audiometric testing using CPA or even conventional methods.

How will my school age child be tested? Most children over the age of 5 can complete audiometric testing in the same fashion as an adult, by listening to sounds and pressing a button to let the audiologist know that s/he hears the sounds.

I expect that my child will not be able to perform at age level. Will s/he be able to be tested? With children who are difficult to test, the audiologist(s) will speak to the parents or guardians and determine which course of action should be taken to obtain the most reliable results. Remember, it is most important that we determine how much your child can hear. The method we use to achieve that goal is not at all important.

What if my child does not complete the test? It is not uncommon that a child cannot complete an entire hearing test. The attention span of most children is short. The audiologists will attempt to complete the test; however, if the child is not able

to finish the test additional visits may be required.

Who should accompany my child to the office? In order for testing to be completed, at least one parent or legal guardian must accompany the child to the office and stay for the duration of the appointment. Other adult family members or caregivers are also welcome to attend.

May I bring my other children with me to the office? If possible, it is preferable that the child's siblings stay at home. Siblings can be distracting for a child during a hearing evaluation.

What is the best time during the day for my child to have a hearing test? It is best that the child is awake and alert for the hearing evaluation. A full belly and a good night's sleep always make for a more positive experience! The parent may decide what time of day his/her child is most cooperative. If your child is only visiting our office for OAEs, it is preferable that you bring the child in sleeping.

Will I learn the test results at the time of the appointment? YES, either the audiologist or the physician will discuss the test results with you at the end of the appointment.

My child passed the hearing screening at the hospital/ at school. Does s/he still need a hearing test? If you, your child's teachers, your audiologist, or physician suspect hearing loss, even following a hearing screening, then the child should complete a diagnostic hearing evaluation.

---